Dear readers, I wrote about 'Branding' and how important a website is for your business in my previous article. Now I have writtern about how 'Local listing' and 'Social media' builds your relationship and trust with your patients.
Missed it out? Click here to read.
What is local listing?
Local business listings are online portfolios that contain information about your business, such as your name, address, phone number etc. Google business listing, Justdial and Yellow pages are few example. It helps local people to find you online.
What is social media?
Websites and applications that enable users to create and share content or to participate in social networking like Facebook, Instagram, Twitter and LinkedIn etc. It helps in building your brand/practice, customer loyalty and engagement.
3. Quantity and Consistency with Directories – Think Local
This research includes looking at directories, like Justdial, Practo, Lybrate etc.
Directory management is the third most important aspect of local internet marketing. That's because Google uses directories as checkpoints. The more often they see your information in these directories, particularly local related directories, the more credible your website will be. More credibility means higher rankings.
The key information on each profile is your (N)ame, (A)ddress, and (P)hone number, or NAP. It's essential to make sure that your NAPs are consistent across directories. That's because even small differences can trip up Google.
Here's an example. Suppose you list your address as "123 Main St., Block 103" on one directory, and "123 Main St., Block #103" on another. That extra pound sign means Google won't recognize them as being the same address. In other words, you won't be benefitting as much as you should.
What many dental practices don't know is that some directories will lift data from other directories. This means that your NAP might end up on directories you didn't even know about. That's a good thing as long as your NAP is consistent. Otherwise, it'll just further confuse Google. Again: consistency is essential.
Quick Fact: 97% of consumers search for local businesses online.
You don't need to worry about out-competing a dental practice on the other side of the country. What you do need to worry about is the dentist a few blocks away. Dentistry is a locally based business; patients are usually people in the neighborhood. You have to make sure that they find you, not your rival.
Don't just set up a profile on Google Places and leave. This is something that represents your practice, so you want to make sure that it looks its best. You can start by uploading a photo of your office building. Patients who see this will know what to look for when they come in for an appointment. You should also include some of your keywords in the profile's description. Another technique is to add links to review sites. This reminds visitors to leave reviews, and makes it easier for them to do so.
There are also dental review sites. Make sure that you keep these sites updated with the latest information about your practice. That way, patients who use them for reference will have the most accurate information.
Here's a cool secret: optimizing your website and having a presence on local directories can build off of each other and give you more online visibility.
The strength of your local SEO is connected to the presence of positive patient reviews. Reputation management can help you get the most out of these reviews.
You can also read '7 Benefits of getting featured in Dental Magazines': Link
4. Social Media Strengthens Relationships
Quick Fact: The 80-20 principle still applies to social media. Only 20% of what you share should be self-promotion.
Social media involves a lot more than just scheduling posts. It's about strengthening your relationships and extending your circles. Nothing else makes it so easy for you to interact with your patients a few times a week. Most dentists are already using social media. If you aren't, you need to start. Get out there on Facebook, Twitter, Google+, LinkedIn, and all the other mediums!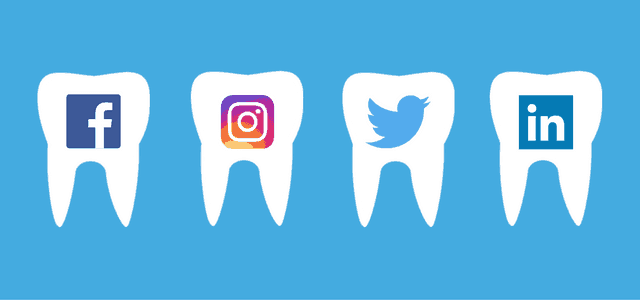 Social signals are what you get when somebody likes what you post on Facebook, or 'retweets' what you post on Twitter. Google takes notice of social signals, which is why they play such a valuable role in strengthening your website's traffic and credibility.
Referrals are another benefit of social media. Happy patients will share their experiences of your practice with other people on their network. This can translate into even more patients and act as 'online word-of-mouth' publicity.
As you get older looking after your oral #health may become harder. Mobility issues can make #brushing more difficult or certain medications can leave your #mouth dry. Find out more about the challenges you can face and the solutions you need below!https://t.co/VjGN7v2eGV

— OralHealthFoundation (@dentalhealthorg) July 8, 2019
You can also use social media to tell patients about new developments on your site, like blog posts. Doing so, can drive more traffic to your site, and help maintain interest in your practice.
You have to be active to get the best social media results. This means searching through the different networks. You can arrange it so that if someone in your area talks about having atoothache on Twitter, you can be the first one to find out and respond. You'll get to the patient right when they need you most.
Check out al the amazing brushing tips you can get at https://t.co/XVx84Piqki! #OralHealth pic.twitter.com/owVnm8jDMC

— DTA Foundation (@DTAFoundation) June 28, 2019
With social media, you can have patients advertise your practice every time one of them steps inside. When someone enters your practice and checks in on sites like Justdial/Yellow pages, Practo, and Facebook, more people will learn about you. You can even encourage patients by offering specials to those who do check in.
The more often you update your social media profile, the more valuable it will be. Make posts that are informative, thoughtful, and that provoke discussion. When in doubt, go for a laugh. A funny image can go a long way.
Remember: dentistry is a personal industry. Getting your patients to know you better will make them feel more comfortable and less anxious when they visit you!
Please do leave comments below for more clarification!
The opinions, findings, conclusions or recommendations expressed in this article are those of the author and do not necessarily reflect the view of DentalReach.
Latest posts by Dr. Rockson Samuel
(see all)