DentalReach Digital Conference & Awards (DRDCA) 2020 International
October 31, 2020

-

November 30, 2020
We welcome you all to the biggest scientific fiesta – the DentalReach Digital Conference & Awards (DRDCA) 2020 International. DRDCA 2020 is a one month-long digital dental conference — with scientific sessions, fun contests and digital awards!
From November 1st to 29th
Our scientific sessions will have a global flavor, since we have curated close to 40 speakers from all around the world for you, who are experts in their field, presenting the latest in
dentistry
. DRDCA 2020 speakers are all highly coveted speakers from India, UK, USA, Australia, Japan, Egypt, Argentina, Poland, Uruguay, Cambodia, Malaysia, New Zealand, Philippines, and Saudi Arabia. They are speaking on a variety of clinical and futuristic topics, covering the entire umbrella of
dentistry
.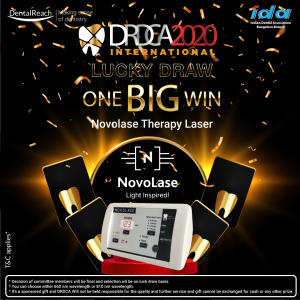 We will be going LIVE on our mobile app, FB group, FB page and YouTube
NOVEMBER 1st to 29th
THURSDAY | SATURDAY | SUNDAY
Morning 11AM to 1PM and Evening 4 PM to 7PM IST
Haven't registered for #DRDCA2020 yet?
For DRDCA registration, speakers details and certificates it is compulsory to install the DRDCA app.
How to register?
1. Kindly install our app: (Eventee)
2. Register in-app
3. Search for DRDCA2020 and enter event to register.
Thank you.
Made with ❤ for Dentists by Dentists!