Dr Sanjali Manerkar is the winner of the Power house dentistry-Max cases highly applauded award in the DR Pronto Esthetic Challenge 2, 2021-2022
Abstract
Dental caries is one of the oldest and most common infections in humans. It is an infectious disease that results in demineralization of the tooth and formation of cavities. The etiology of caries is multifactorial and involves host factors such as salivary components; dietary factors such as the availability of fermentable carbohydrates; and microbial factors. Caries incidence has increased dramatically in post industrial societies with increasing affluence, and in particular with the availability of processed sugar. With the increase in caries prevelence, there have been many advances and developments in dental restorative materials. Activa™ Pronto (Pulpdent ®, USA) is one such latest advanced light cure composite material designed to mimic the properties of natural teeth.
Introduction
Subgingival margins present as a common clinical challenge. In cases where subgingival margins are present, deep margin elevation (DME) can be a useful technique to help restore teeth to the proper form and function. This procedure involves placing a material to raise the restorative margin to an equigingival or supragingival location. DME technique has been referred to by many different names, including:
open sandwich technique
proximal box elevation
margin elevation technique.
Some of the earliest work published on the concept came from Dietschi and Speafico in 1998. The concept gained traction in 2012 when Pascal Magne discussed the concept as a paradigm shift for direct and indirect restorations. Furthermore, adopting a minimally invasive approach in managing deep caries lesions will help avoid complications with pulpal involvement.
Following case presents deep caries management with DME, using advanced Activa™ Pronto composite .
Case Report
A 56 year old female presented with deep caries in distal of 13 (Fig 1).
Teeth were isolated with rubber dam and floss tie was used for additional retraction. Irregular silver amalgam on mesial surface of 14 was levelled and polished. Cavity on 13 was cleaned using diamond burs (Mani) and deep caries were excavated (Smart bur, SS White). Margins were bevelled and polished (3M coarse disc). Cavity was sandblasted to remove the biofilm layer prior to bonding.
Deep margin elevation (DME) was done with Activa™ Pronto (wedging with medium Bioclear® wedge) (Fig 2).
After DME, Lime-Lite™ Enhanced Cavity liner(Pulpdent®, USA) was placed. Matricing (Bioclear® 102 matrix) was done and secured with flowable composite on buccal surface (Fig 3).
Selective etching was done with 37 % phosphoric acid, followed by bonding (3M universal bond). Cavity was overmoulded with warm Activa™ Pronto. Glycerine gel was used as oxygen inhibition layer just prior to final curing.
Finishing was done (3M coarse disc, 12 fluted carbide burs from SS white) and polishing was completed (Eve diacomp twist) (Fig 4).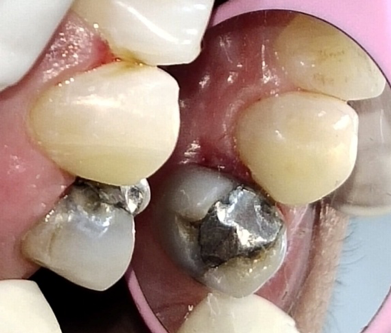 Discussion
Activa™ Pronto is a unique stackable versatile universal composite for all classes of cavities. It has patented rubberised technology which absorbs stress and resist wear. It is free from Bis-GMA, Bisphenol A and BPA derivatives. It also facilitates diffusion of bioavailable calcium, phosphate and fluoride ions which penetrates and integrates with the tooth.
Due to its hydrophilic nature Activa™ Pronto is the material of choice for DME cases. In all sense, it is a new age composite that exhibits biomimetic properties which prevents marginal leakage and subsequent secondary caries.
Conclusion
Being the first bioactive, highly esthetic restorative composite with excellent easy polishability, Activa™ Pronto seems to be an ideal material for all restorative purposes, beneficial for both patient and dentist.
References
Richard J. Lamont, Paul G. England. Dental caries, Molecular Medical Microbiology, Second Edition, 2015
Benefits of DME for treating subgingival margins – by Andy Janiza May 7, 2021 at www.speareducation.com
Author Bio
Dr Sanjali Manerkar is a general dental practitioner in Goa, India with special interest in esthetic dentistry.
sanjslife@rediffmail.com